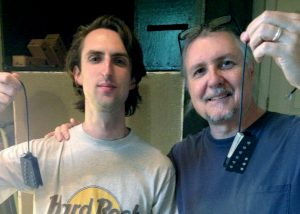 Hi, I'm David Petschulat, the inventor of Rivet pickups! At Rivet our goal is to make fascinating, great sounding products – to help, and maybe inspire you to make fascinating, great sounding music. We borrow from tradition, but we're not having fun until we jack it around and find something fresh and exciting. That's what we do. It' why our products get people's attention. Making fascinating things is our obsession.
In my past a luthier, I've built unique custom guitars for top-tier artists Eddie Van Halen, Steve Morse, Heart, Foreigner, and many others. Always inventing, I've managed to find my way into interesting adventures: I designed Eddie Van Halen's first locking vibrato with fine tuners. Friend Joe Glaser and I created a patented system for adjustable frets. At Kahler USA I did product design (including the "Steeler", "Spyder", and "Killer" vibratos), and at Gibson Guitar I learned computer programming and systems analysis.
I've been at ground-zero on some wild and extreme projects thru the years, such as prototype building for now friend Lee Young, the godfather of guitar synthesis – to pounding out power chords in a hot band with Scott Borchetta, the later-to-be founder of Big Machine Records.
Thru it all, I'm always seeking ways to jazz my gear into letting me have just a little more fun playing the guitar.
In addition to Rivet, I teach Guitar Mechanics at Belmont University in Nashville.
Rivet Pickups are hand-made, by me and my son Sam, in our workshop in Franklin, TN, just outside of Nashville.