**See pictures below of various other configurations…**
INSTALLATION OF THE CONNECTOR CARD: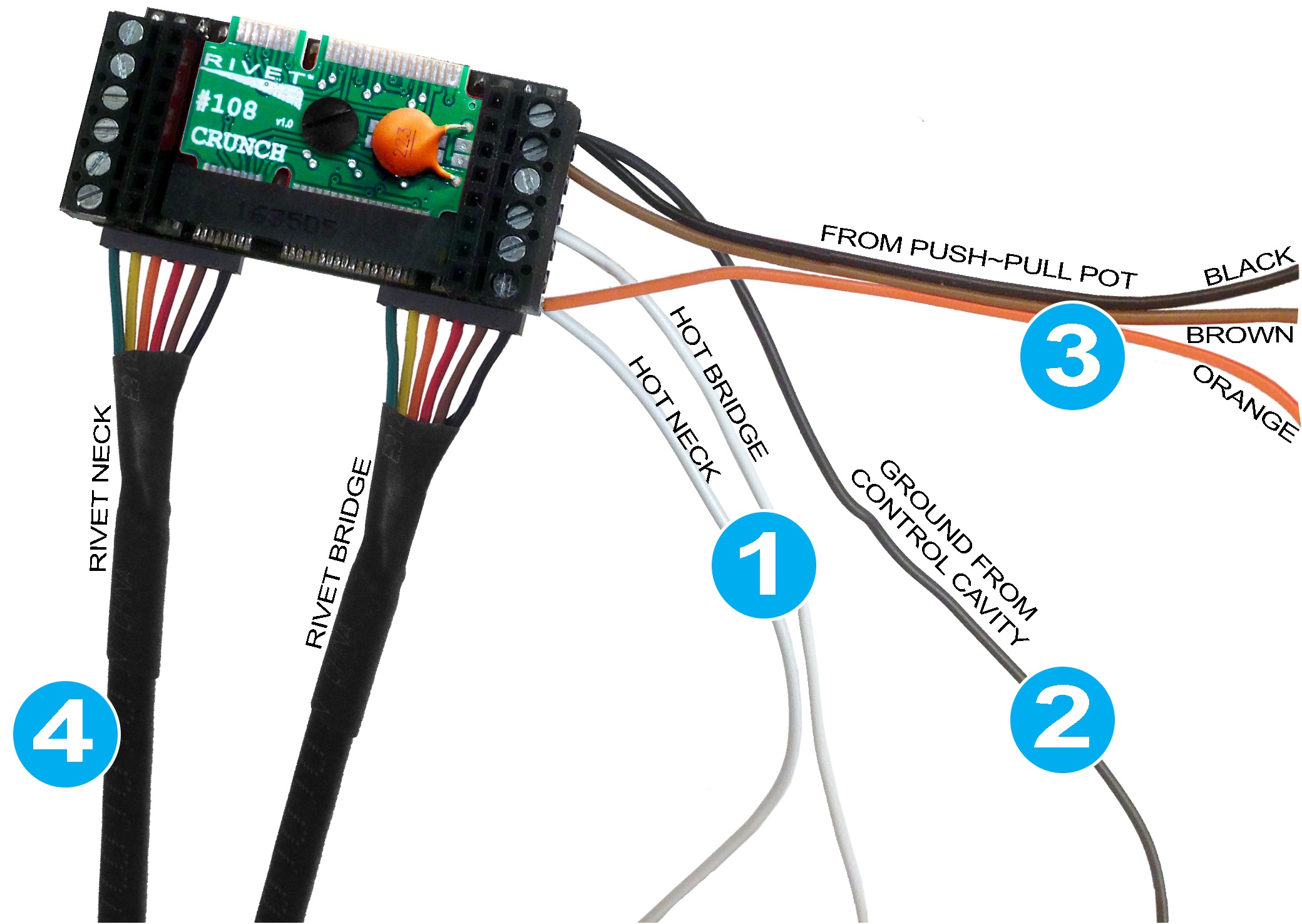 The connector card will work beautifully in a wide variety of guitars having a two-way or three-way selector switch and up to three pickups. The first illustration presumes a basic Les Paul or SG type of configuration – see below for more illustrations including Strats and Tele's with various combinations of Rivets and traditional pickups…
Instructions:
Attach the wires which send signal to your pickups from the control cavity to the screw terminals (see  #1). They may come from volume pots, or a toggle switch, etc.

Attach a ground wire from your controls to the upper right screw terminal (see #2).

Replace one of your tone pots with our supplied push~pull pot, and attach the wires to the screw terminal (see #3). If you replaced your

neck

tone, attach into the "hot

neck

" terminal hole, etc.

Plug in your Rivet pickups (see #4).
---
Here's an explanation of the Connector Card's "ports" for those of you who are curious or prone to fool with things…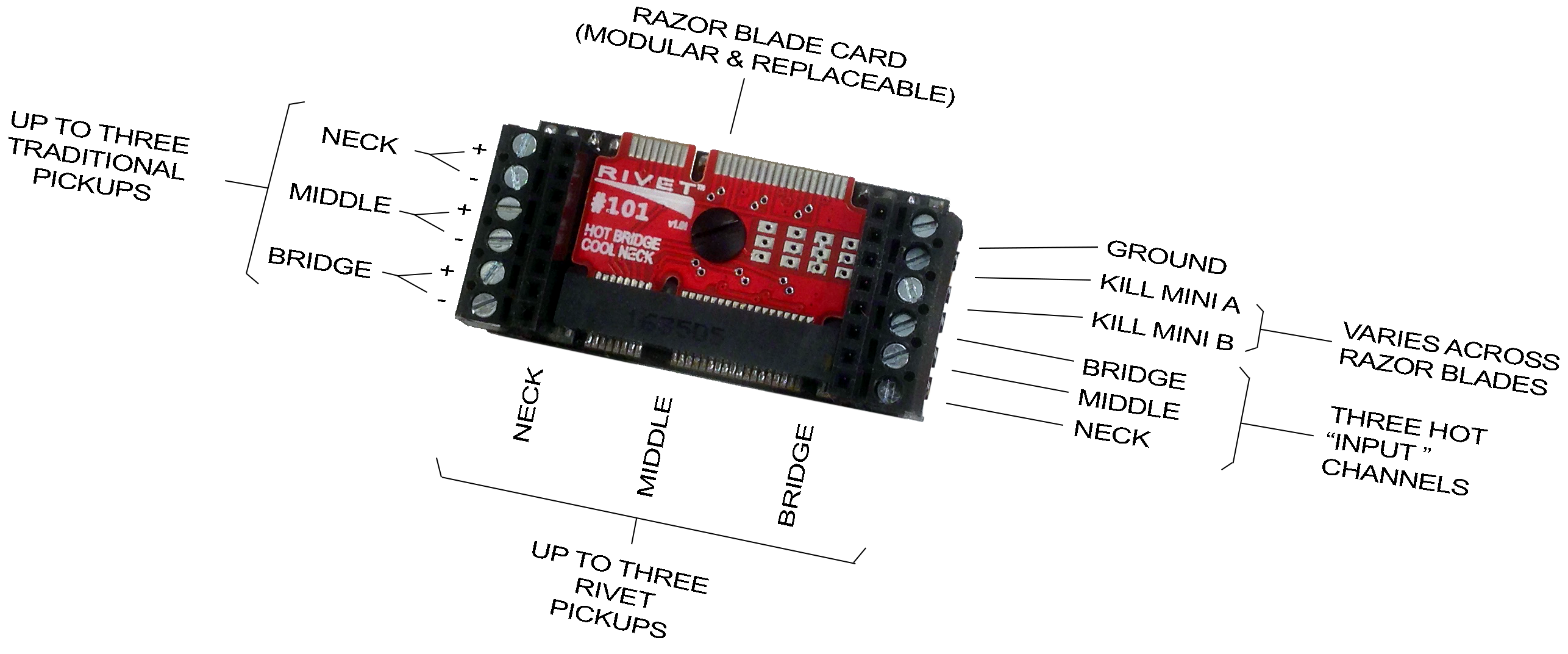 Some comments about the Connector Card…
♦ Any of the THREE RIVET PICKUP "OUTPUT" CHANNELS which do not have a Rivet cable in it, must have a jumper inserted in place of where the mini-coil pins would be (picture to be added later).
♦ The (+) and (-) wires of any TRADITIONAL PICKUP "OUTPUT" CHANNEL can and should be reversed if the traditional pickup sounds extremely thin and weak when combined with any Rivet pickups.
♦ The KILL MINI A & B ports do not always serve the same function due to the evolution of the design, sorry. But wires from the push/pull pot to these ports usually cause certain mini-coils to turn off when that port is connected to GROUND which is what the push/pull switch does when you pull the knob up. Actually, those ports could be connected to one or even two different switches of any sort, like maybe a mini-toggle switch – there's nothing special about our push/pull pot. It simply shunts those ports to GROUND. (We expect to be improving this aspect of the design in the future.)
---
Here's a view of Les Paul, SG, etc…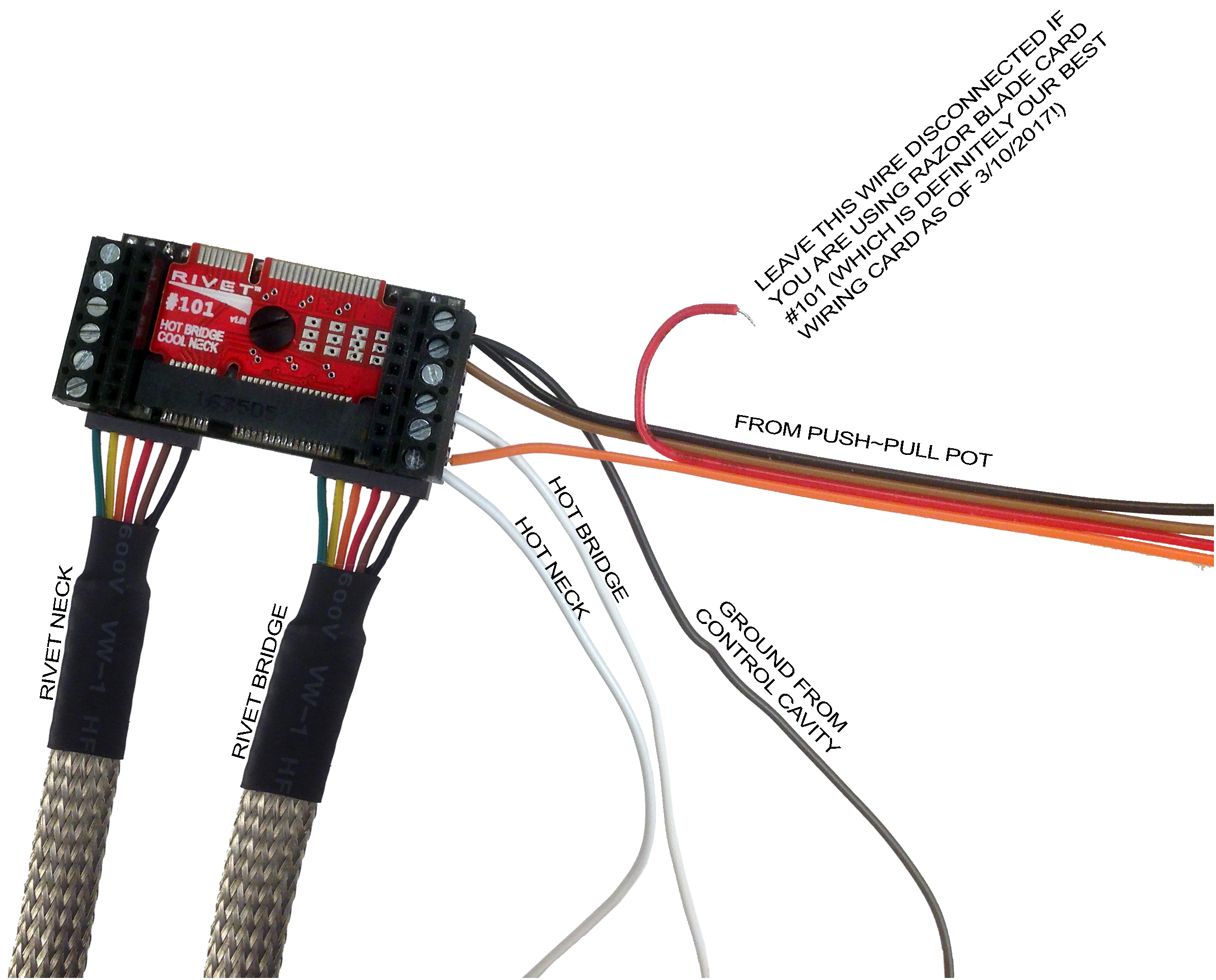 ---
Here's a view of a Strat with two Rivets…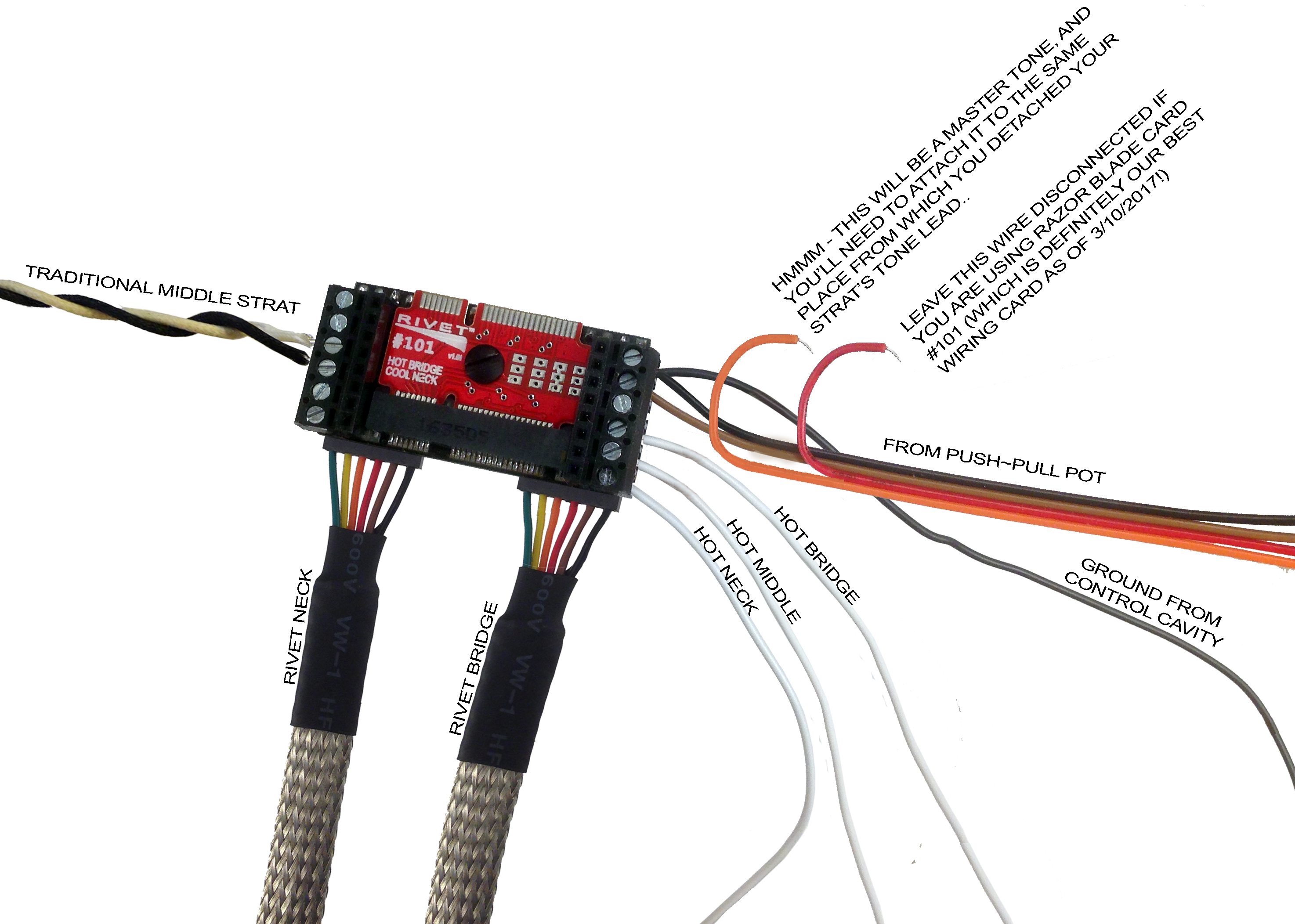 ---
Here's a view of a Strat with three Rivets…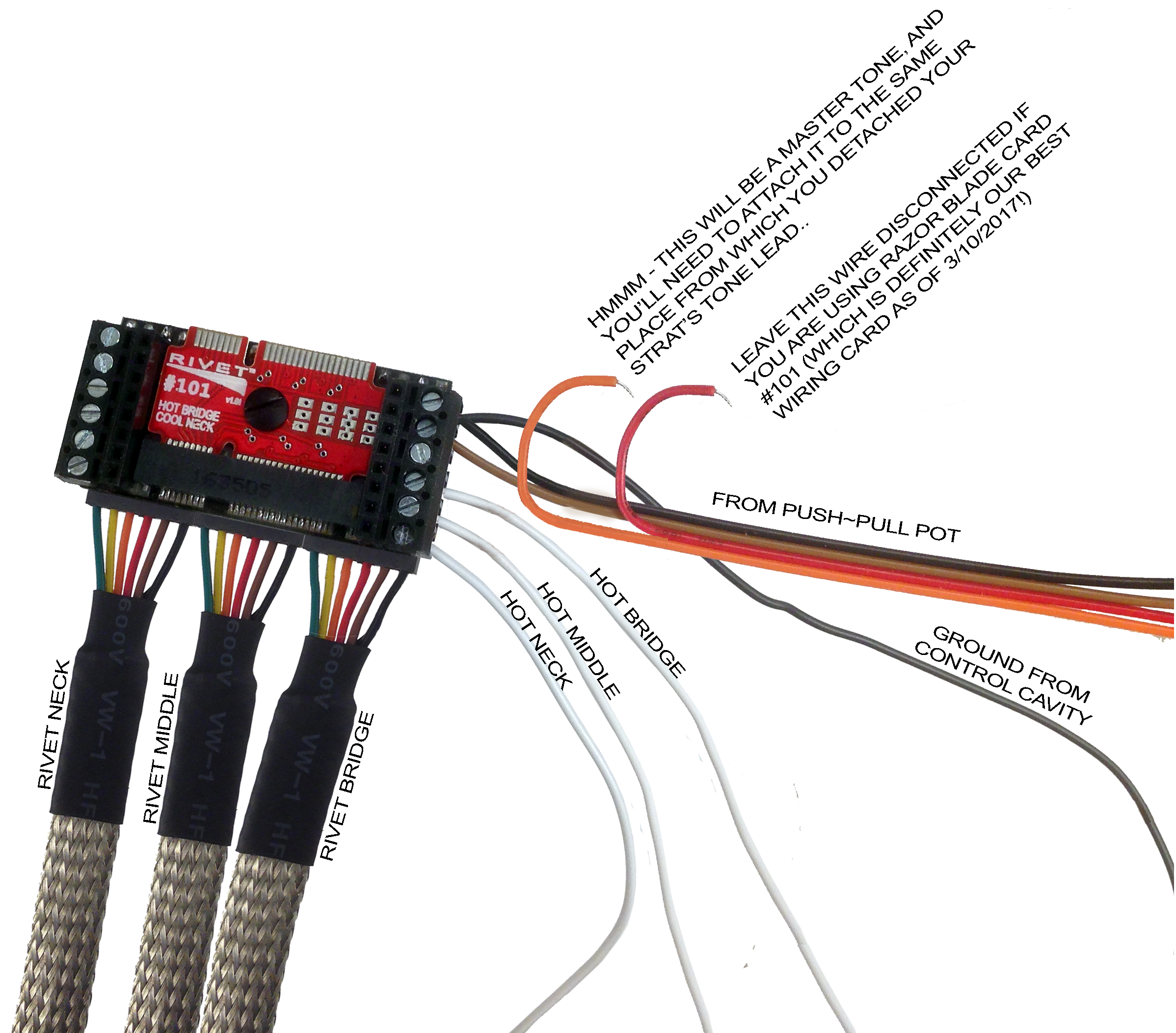 ---
Here's a view of a Tele with just one Rivet in the neck position…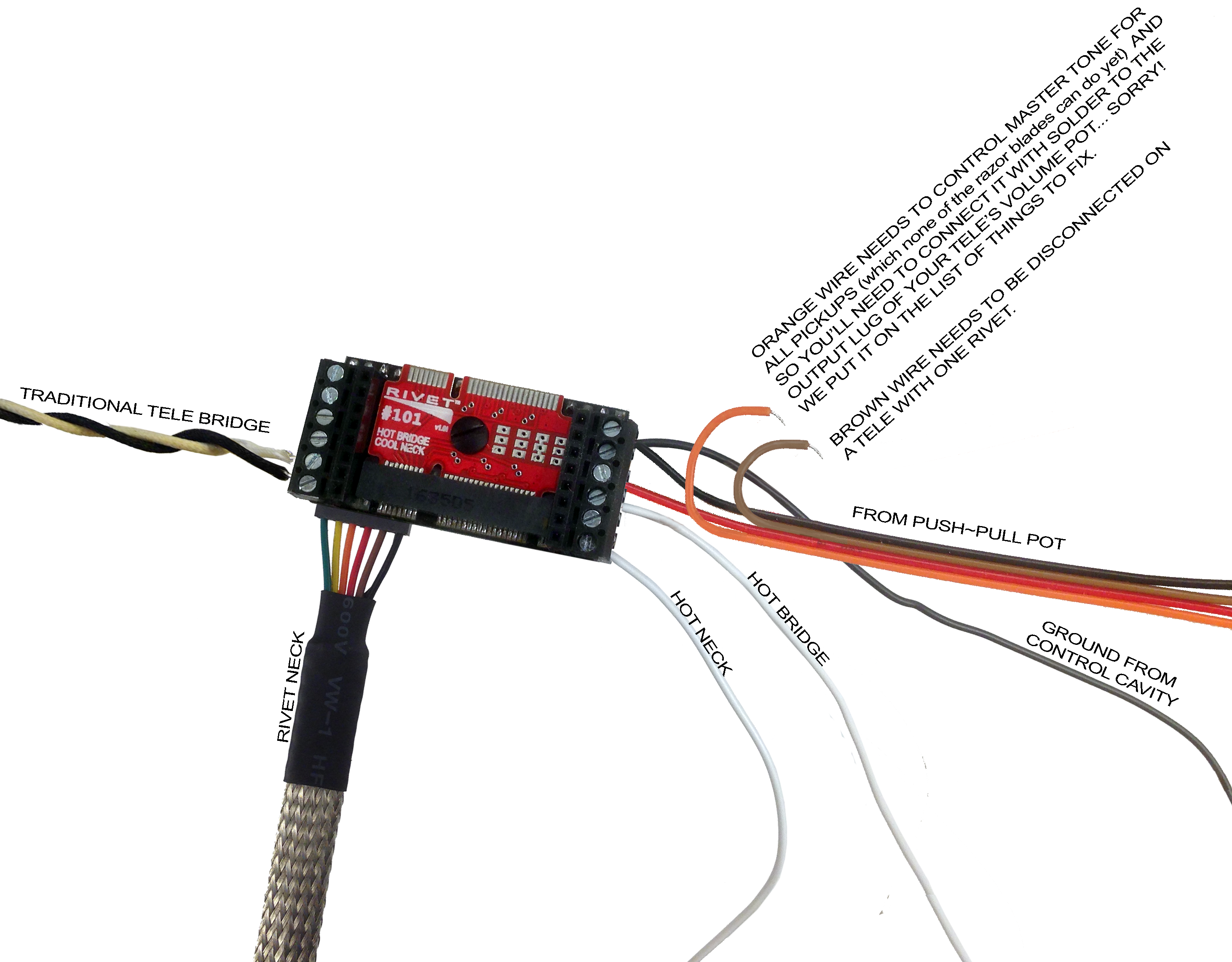 ---
Here's a view of a Tele with just on Rivet in the bridge position…